The tiny storage module that is cheap to make but expensive to add. This is useful if all the sides of your cart are already occupied. One cart can also contain up to four modules of this type.
Internal Storage
Edit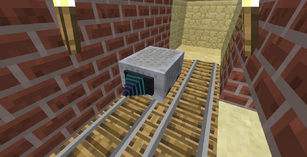 Standard Hull with Internal Storage (not visible). The Wooden Hull is a minimum requirement. This Module has 9 Storage Slots.
This is how its made:
You need 8 Chest Pane and 1 Chest Lock.