This is the most advanced drill that you could get in reasonable time. It's still expensive though.
The Hardened Drill
Edit
The Hardened Drill digs out a 5X5 hole .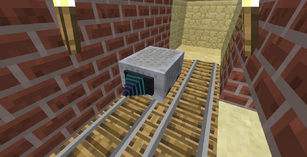 Standart Hull with a Hardened Drill
This is how its made:
You need 2 Hardened Mesh, 1 Diamond Block, 1 Basic Drill and 3 Reinforced Metal Bars.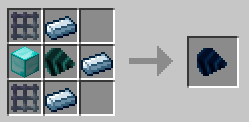 Mining Speed
Edit
Here are some examples of the mining speed from this tool.
| Block | Time |
| --- | --- |
| Dirt | 3 t ■ |
| Stone | 7 t ■ |
| any Ore | 13 t ■ |
| Spider Web | 17 t ■ |
| Mob Spawner | 1 sec ■ |
| Ender chest | 5 sec ■ |
| Obsidian | 10 sec ■ |