The farmer is a tool that can be attached to the front of the cart. It is basically a combine, a hoe and a planter combined since it can harvest crops, till the land and plant seeds. It's has a 3x3 range which means it can only work on the blocks adjacent to the rail.
The Farmer
Edit
The farmer works well with the Hydrator (or Large Hydrator) and the Fertilizer.
By adding these modules to the cart the cart will be able to hydrate the land and fertilize the crops, which it does not do by itself.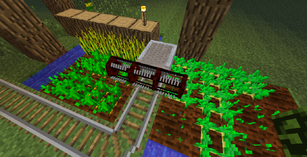 Standart Hull with the Farmer. The Standard Hull is the minimum requirement.
This is how it's made:
You need 2 Simple PCB's, 1 Iron Ingot , 1 Gold Ingot and 3 Diamonds: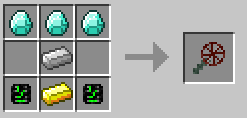 The raw materials you will need
Edit
9 Iron ingots
3 Gold ingots
8 Redstone
3 Diamond

The different seeds it can plant and crops it can harvest are shown below:

| Seed | Crop |
| --- | --- |
| Seeds | Wheat |
| Potato | Potatoes |
| Carrot | Carrots |