"The Sun is only what you need,if she is shining."
The Basic Solar Engine
Edit
The basic solar engine. Will generate power when the cart is in the sun light.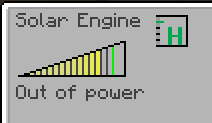 Above.This is how the interface looks. On top right is the
engine priority button. The Meter show the Sunlight Level.
When the cart is in the sun the light meter will be maxed and therefore generate power. This power can be used to power the cart.
This is how its made:
You need 3 Iron Bars,1 simple PCB , 1 Piston on the bottom and 2 Solar Panels